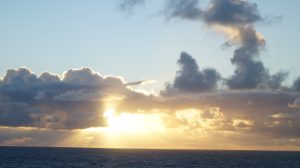 GREAT SUN RISES & GREAT SUN SETS
If you are a nature lover, Sierra Creek Subdivision is a place to die for. As you drive on Mineral Springs Road from the South off Clack Road or from the North of Hog Mountain Road, you will be adjacent to 890 acres in the rolling hills of heavily wooded upper and lower Mulberry Park. There are 5 miles of paved multi-purpose and soft surface trails for walkers, runners, bikers and horseback riding. There are plenty of places to sit and enjoy the scenery, picnic or if you like to fish, there is access to the large lake on Little Mulberry.
As you arrive at the entrance to Sierra Creek, you begin to sense immediately that you are in another world. Away from the hustle and bustle of the Metropolitan Atlanta Area, yet you are part of it in your own little paradise this side of heaven.
The entrance immediately reaches out to you. This is not a gated community but as you enter you view a classic Field Stone Guard house. The meandering uphill roadway invites thoughts that this is a place that will stretch your lifestyle to new levels of enjoyment. If you are starting a family or have a family, you will be excited about the new and fresh community amenities.
The Clubhouse on the right has a very attractive bold exterior. Inside you will begin to think you are in someone's private club house as it has an awesome fireplace, several seating areas, a large bar and an open space perfect for a DJ and some dancing. As you walk through the rear door you enter an expansive pool deck. You are now looking at a covered pavilion area and the multifunctional pool area. The giant pool area has a toddler section with a mushroom waterfall. The swimming area has a section of varying depth for swimming, lap exercising or group activities such as pool volleyball. The upper section has a twisting waterslide for children of all ages. Adjacent to the pool complex is a children's playground that is a step up in accommodating children and young teens.
If you are into Tennis, you will love the four fenced in, hard surfaced and lighted Tennis Courts. Whether you are into ALTA, USTA or just neighbor play you will find the tennis courts meeting and surpassing your expectations. There is also a center covered vantage point for viewing all four courts during match play.
Once you leave Sierra Creek's clubhouse and activities area you will meander through a spiraling neighborhood of beautiful homes. The more you travel in Sierra Creek, the more you will come upon expansive vistas and home sites overlooking the surrounding countryside. The offerings are for the eye of the beholder. Your dream home and its location are welcoming and waiting for you at Sierra Creek.